Treat Your Pregnancy-Related Pain in Springdale
Pain during pregnancy is incredibly common, caused by the combination of mechanical, circulatory and hormonal changes that put stress on the lower back, pelvis and hips.
Pregnancy can be a difficult time for a woman and keeping yourself healthy is vital. Stress from pain and discomfort can go beyond causing physical pain to have an impact on your mental well being. Taking care of yourself during your pregnancy and treating any pain you encounter will make for a much more enjoyable pregnancy.
Watermark Chiropractic is located in the center of Springdale in Arkansas making it conveniently located for pregnant women and with a client parking so you do not have to worry about walking through town while suffering from back pain. Our expert chiropractors will make you feel right at home and create a therapeutic environment that will make you comfortable while delivering a personalized treatment plan for your specific pregnancy-related pain.
How Does Chiropractic Treatment Help Pregnancy-Related Pain?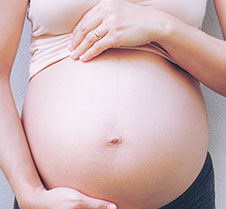 Through spinal adjustments, muscle release techniques, muscle stimulation, rehabilitation exercises, and lifestyle advice our chiropractors can alleviate your pregnancy-related pain. Pain in pregnancy is quite common and many women find that chiropractic therapy dramatically improves their well being and allows for a more comfortable pregnancy. Most women respond well to treatment and find that it gets them back to a happy level of comfort rather than just waiting out until the end of a pregnancy to experience the pain relief.
If you are in the Springdale area and are suffering from Pregnancy-Related Pain, call us today and speak to one of our friendly team who can advise you on the best treatment option or book you in for an appointment.