Treat Your Lower Back Pain in Springdale
Lower back pain can impede on so many aspects of your life, making day to day tasks impossible or far more difficult than necessary. Don't continue to suffer from your back pain, come and see our expert chiropractor in Springdale Arkansas to eliminate your pain and get both your physical and mental wellbeing back.
Watermark Chiropractic in Springdale, Arkansas understands your problem. Lower back pain can cause tremendous discomfort but it can also be difficult to manage treatments around your busy life. We pride ourselves on putting our customers at the centre of everything we do and can create a treatment programme around your life, so you will never have to miss an appointment and can get your health back on track as soon as possible.
How Does Chiropractic Treatment Help Lower Back Pain?
A number of studies have been conducting shows that the manual therapies conducted by chiropractors can be an effective treatment for lower back pain. Our goal with our treatments is to eliminate your lower back pain without the need for invasive surgeries which are uncomfortable and expensive, often with long recovery times.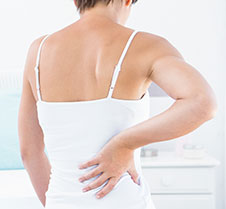 Through spinal manipulation, our expert and board certified chiropractic examiners will improve the functionality of the lower spine by applying short lever arm thrusts to the affected area with the aim of restoring the full range of motion. This type of treatment is non-invasive, painless and many of our clients even find it very relaxing and therapeutic.
If you are in the Springdale area and are suffering from lower back pain, call us today and speak to one of our friendly team who can advise you on the best treatment option or book you in for an appointment.